Using the CRDS Web Site¶
CRDS has websites at hst-crds.stsci.edu and jwst-crds.stsci.edu which support the submission, use, and distribution of CRDS reference and mappings files. Functions on the CRDS website are either public functions which do not require authentication or private functions which require a CRDS login account.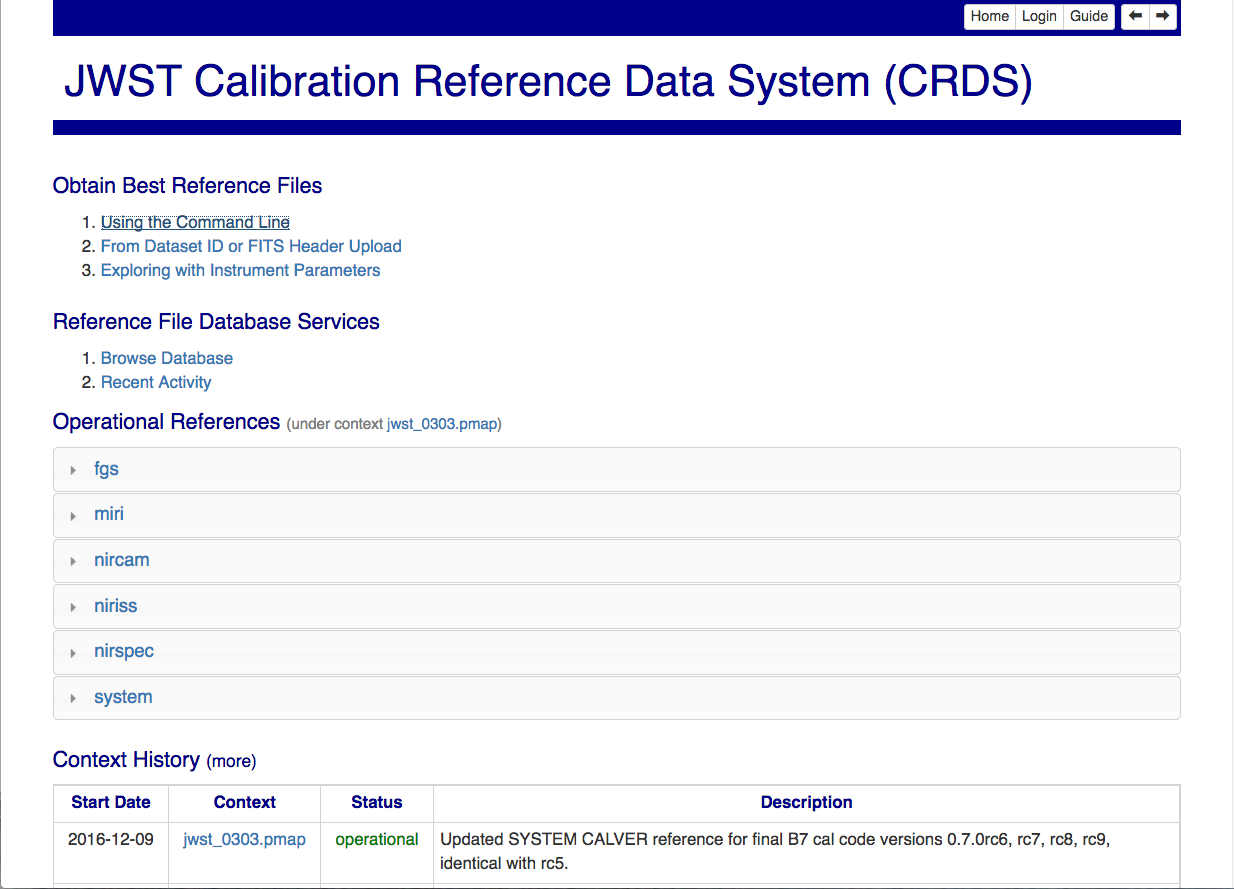 Functions annotated with the word (alpha) are partially completed components of a future build which may prove useful now.
Operational References¶
The Operational References table displays the references which are currently in use by the pipeline associated with this web site.
Each instrument accordion opens into reference type accordions for that instrument.
Each reference type accordion opens into a table of reference files.
In general, links to files will either lead to the CRDS catalog details about that file or to a context display for a different .pmap.
Context History (more)¶
The Context History displays the last 4 CRDS contexts which were in operational use by the pipeline. Clicking on the (more) link will bring up the entire context history as a separate page as shown below:
Click the diff check box for any two contexts in the history and then click the diff button at the top of the diff column:
This will display a difference page with an accorion panel for each file which differed between the two contexts:
Each file accordion opens into two accordions which alternately display logical and simple textual differences.
The logical differences display a table of matching parameters and files which were added, deleted, or replaced. The textual differences show raw UNIX diffs of the two rules files.
Clicking on any context link (the .pmap name) in the history table opens a page containing the Historical References for some point in the past, similar to the Operational References display:
Open Services¶
The following functions are available for anyone with access to the CRDS web server and basically serve to distribute information about CRDS files and recommendations. Initially, the CRDS sites are only visible within the Institute.